PET FOOD TESTIMONIALS
_____________________________________________________________________
My name is Shaila Bernard and a Kitten Parent of Desert Willow Cattery.
As far back as I can remember, 5 years old - - almost thirty two years ago I have loved Persian cats.
In 1995, after landing a job in New Hampshire I found a breeder of Persian cats and she had a shaded silver kitten. And he was such a sweetie! I made him into the most loved and spoiled indoor kitten as all of us know and love our babies! I spared no expense when it came to buying teepee's for him to sleep in - - though he often slept in my bed of course! I even checked with vets and breeders to ensure he had the best foods and treats! In those times it was IAMS.
When he was 12 years old he began to drink water constantly. He would still eat and purr and want to be loved but he was always thirsty. The vets all said he was just thirsty and it was nothing to worry about, so I didn't worry about it. A few months later he started throwing up. Again worried I took him to my Vet and was reassured that this was only hair balls; after all, he was a long haired cat? And even though there was no hair in what was coming up, they insisted that it was hairballs.
Eventually, he started to lose weight, and would not eat anything and he couldn't' even use his litter box any longer. Again I sought out answers through several vets, all suggesting fluids once a week and he could stay alive - -but now the blood work was showing he had kidney failure and it was only a matter of time. After a two attempt of trying to give him fluids and understanding how much love he had brought me and how much I treasured our sweet years together, I knew how much pain he was in, it was obvious. I knew in my heart it was time to let him go. I contacted a vet she agreed it was time. So I had his life terminated along with a big piece of my heart.
In my search for another friend to fill this void, I contacted Theresa at Desert Willow and told her my story. She told me about the fillers now in cat & dog foods and how so much is coming in from outside of the country making it impossible to monitor quality. She also educated me on how bad corn products were for our animals now. Cancer growing ingredients now wrapped around pretty packaging is the NUMBER 1 Killer of Dogs and Cats!
Securely, I purchased two kittens from Desert Willow Cattery, a Blue Point and a Seal Point. And they get nothing but Life's Abundance - - cat food, treats and moist food. They also get a spoonful of yogurt a day in the evening –they LOVE it! They are healthy kittens, happy, and SLIGHTLY spoiled with love. They have two toy boxes and three or four gyms to exercise on. My heart is full of joy once again.
I have another cat Sabrina who was a friend to the one I lost. ONE month after putting down my other cat, Sabrina started going into excessive thirst and throwing up. She will eat some days and others she does not eat at all. The blood tests showed the same systems with her. I expect by summer I will have to euthanize her also - - she ate the same food until recently. Eventually she will stop eating or not go to the litter box just as my other did. The damage is already done and it's only a matter of time now. How horrible that PET FOOD COMPANIES do not have our "little 4 legged family members" best interest in their hearts as they make food that is suppose to sustain them. How tragic to learn how little my animals mean to this big pet food companies. They teach us to trust them through their meaningful commercials with flowery words that now mean nothing to me! Watch out because these foods are still on the shelves!
My kittens will stay on Life's Abundance as I don't want to see another pet that I love go through pain of kidney failure or see their system shut down due to food I BELIEVED was safe and fed it to them myself!
Theresa-- thank you for taking time to "teach" on proper care & nutrition for our animals from a holistic point of view. I know you believe a healthy balance of both Modern & Holistic medicine is important, but the eye opening side of saying "NO" to our vets is very helpful for future issues that can arise too. Also for spending so much time on the education of proper nutrition, vaccinations and so many other issues that we can do safely that will not harm them as too many "DRUGS" do for our beloved pets.
My heart rests knowing my current Cats will live long happy lives fill of contentment and happiness. I know they should live comfortably into their early 20's! And when it's their time to go because of a long lived healthy life, they will pass on dreaming of chasing birds into eternity.
_____________________________________________________________________
Hey Theresa!
I thought I would update you on Boston's progress. You might remember he is from Jubileena and Audie Murphy born July 17, 2009.
I took him in to visit his vet and have him weighed. My Vet just LOVES him! She always comments on how beautiful he is and what a great personality & temperament he has. She could not get over how he has grown into such a handsome healthy boy; he weighed in at 49.8 pounds at almost 7 months old. She told me that he is in "perfect" physical condition and the food and vitamins that he is on are clearly working wonders. She told me his body feels muscular and in perfect in shape so I was feeding him the correct amount. I worry because I don't want an overweight dog, yet I know he's a puppy so they do tend to eat more. She also said she had never seen such white teeth in a dog (I don't brush!!) Mother is very proud and I would love to take credit, but I had to remind her that it is because of the food and supplements we are feeding and Desert Willow's holistic approach in diet and high enzymes is keeping his skin, coat, teeth and over-all well being in tip top shape. She agreed!!!
Anyhow, I thought you might enjoy hearing about Boston's progress and, once again, know that the regime you have developed and implemented is FABULOUS!!! I'm a believer!
Jacque and Boston
Benicia, California
---
I have a house full of dogs and we care for them like children. I first heard of the Flint River Ranch food from Theresa Gorduyn. She said she used it for her puppies to ensure that they would have healthy lives. My wife and I are huge skeptics but I felt an obligation to try it because I love my pets and it was recommended by a friend. It only took 3 minutes online and I ordered the first batch in the smallest bags of the Lamb meal and the Fish and Chips because that is what was recommended and the names sounded cutely fitting for my bubbies. They arrived at my door very quickly, two or three days. When it came I opened them and smelled them to see what I was dealing with. The food looks like it was baked in a big tray and broken into small pieces. The best part is that it smells like graham crackers, I would probably eat this food. Normal dogfood doesn't look the same and smells salty and looks greasy, disgusting and at the end the bag is really greasy. When you finish with the Flint River Ranch food there is no grease on the bad and just crumbs like a box of cereal. Since we have switched, we have not switched back and we order bigger bags which ends up costing the same as what we used to buy at Petsmart. The dogs seem still happy as ever, but now Momma is happy. When Momma is happy, everyone else is too! Thank You Theresa for telling us about it.

Ish Martinez
---
Theresa, Thank you so much for the picture updates of my puppy. I absolutely love how you catch their personalities in their photos. I can not tell you how excited we are.

A quick update on my German Shepherd, Ethan. He is now on the Flint River Ranch mush with the pets alive and missing link. He gets the Nu Vet wafer, the yogurt and I'm using a little salmon in the mush. I have been able to cut his prednisone level in half and his daily 500mg of amoxicilin has been cut to every other day. His antihistamine dose has been cut by a third. I can not tell you how miraculous this is. I have known for a long time that the medications that were keeping him alive in the short term, were probably killing him in the long term. Because of the length of time he has been on these medications, I have to take my time weaning him off of them. I have been thrilled with the progress so far because I have never been able to get the levels down this low without his allergies cascading on me. So, for me to say that he is stable, no sign of discomfort or itching......its a miracle. I will be introducing the Lifes Abundance nibble kibble soon and will keep you posted on his progress. We're planning another med reduction in about a week.

I truly believe that God lead me not only to Marta Mae but to you, Theresa. Your research and knowledge could very well give my beloved boy an extended, happy, comfortable, and energetic life. Thank you so much.

God Bless, Rachel
---
When I began looking into buying one of Desert Willow's beautiful Aussie's, one of the first things I did was talk to Theresa about her beloved dogs. While speaking about them, Theresa told me all about the food and vitamins she feeds and why. She also informed me that these companies are smaller outfits that use local "organic" ingredients, and how she attributed her dogs excellent health to their food and vitamin routine.
I had been aware of the "MASSIVE" Dog Food Recalls and the deaths that had occurred all over the country and I was worried about what to feed and have not known what to do. Even though I do not yet have my Aussie, I do have a Sheltie that I love very much and am worried about. She is picky and does not like her food. Her Teeth were in terrible condition, and she had the worst skin allergies as she is allergic even to grass. Every time she went outside (which she just loves) she would spend the rest of the day chewing crazily at her feet! Also Scratching her ears, and pawing her eyes and shed like crazy! No matter who long you brush or how often, hair kept coming out and you could fill trash cans at a time with what I was brushing out! Also it looked like the rugs in my home hadn't been vacuumed in a month (even though it had been less then 24 hours since I cleaned them). Hair was everywhere but I just assumed it was the breed. And to me, the scariest of all, she was becoming lethargic and didn't want to run and play, she didn't even look up when I tried to play with her favorite toy. I was very concerned she was depressed! Even then, I never thought it could be health related or dietary.
So I decided to (after speaking with Theresa) to order the Flint River Ranch Lamb, Millet and Rice and the NuVet Vitamins right away (I did not want to wait another day to get this to her) and I'm so glad I did! She loves (and I mean LOVES) her new food and her vitamins are the biggest treat of the day! After only 10 days of this routine she was running, barking, and playing again and is acting like her old self again! Even better that her old self actually because her allergy sensitivity went down to minor irritation at best! Her teeth are getting cleaner everyday (I am also feeding her yogurt everyday as per Theresa's recommendation which she loves!) and amazingly enough, she has almost stopped shedding completely! Her coat is silky and healthy and the shedding is minimal (normal).
My Sheltie Violet has seen me through a lot of hard times, some of the worst in my life, and like a good friend, she has always known when I needed cheering up by playing silly games, or just lay her head on my lap for hours to comfort me. In her whole 9 years of life she has been a faithful, loving companion and has never let me down - she's my best friend. I am so glad Theresa told me about this feeding system because Violet is the best dog that ever lived and she deserves to feel as good and live as healthy of a life for as long as she can! Now the rest of her years will be better now because of this and it's just the beginning!
If this feeding routine has made this much difference in this short amount of time in her life, I cannot imagine the benefits I will see for her when she has been on this long term and for my future Desert Willow Aussie!
Thank you Flint River Ranch, Thank you NuVet and Thank you THERESA!
Rebekah Elliott
Tulsa, Ok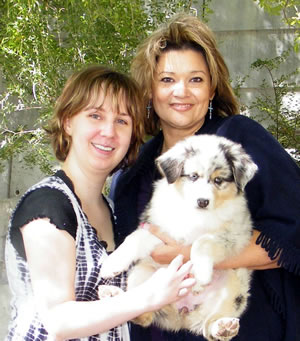 Olivia will be Rebekah's Seeing Eye/Service Friend
_________________________________________________________________________________
Rachel posted something on your Wall and wrote:

"Hi Theresa: Just read the testimonial and it does my heart good. As you know, my male 7 yr old German Shepherd has severe allergies (to the point of having a toe amputated because of a deep nail bed infection caused by the allergies!!!). I have begun to introduce the FRR food, the Nu-Vet vitamins,and the yougurt. Will be introducing the Pets Alive and Missing Link along with the Life's Abundance soon. It is my goal to have my whole pack on your protocol by the time the puppy gets home. I will keep you updated on Ethan's progress as we get deeper into his transition. I can tell you, I have already seen subtle improvements and we aren't completely on the protocol yet. I'm thrilled. You were truly sent to us by God....HE knew how much Ethan needed you.
God Bless you and your family......Future updates coming soon...Thank You"

To see your Wall or to write on Rachel's Wall, follow the link below:
http://www.facebook.com/n/?profile.php&v=feed&id=886210031&story_fbid=228055285031&mid=ee924cG34d27defG63af984G1
Rachel Thank you, you are a blessing to us too! I am excited to hear (and SEE) what happens as a result of wonderful nutrition in your German Shepherds life. This is all just so exciting to us too! T
_________________________________________________________________________________________________________
_________________________________________________________________________________________________________
Video - "The TRUTH about Pet Food"
Click here for your FREE Sample of Life's Abundance
Dog or Cat Food!


A high quality, all natural, oven baked dog food made with premium healthy ingredients!
We feed Life's Abundance and Flint River Ranch Dog and Cat Foods!
Click the links above and order or Re-order!
_________________________________________________
Click Here for list of dog food brands current recalls
_________________________________________________
Click here for you FREE Sample of Life's Abundance
Dog or Cat Food!
_______________________________________________________________________
Holistic Natural Supplements for Dogs and Cats
Used and Endorsed by Desert Willow Aussie's..

IS YOUR PET SUFFERING?
* Allergies * Hot Spots * Skin & Coat Problems * Scratching, Itching & Biting * Poor
Digestion * Arthritis & Joint Problems * Tumors * Lack of Energy * Heart Conditions *
Tearing Eyes * Premature Aging * Cataracts


To Order CALL 800-474-7044 discount Code 51959
(must have code when ordering) save 15% on autoship
To Order Online CLICK HERE
___________________________________________________