Donations:
Dawn Joens (and Family) - DWA Puppy Parents
Sarah Overcash - DWA Puppy Parent of TWO!!!
Don & Jennifer Childress - DWA Puppy Parents
Bruce & Louise Ducote (and Family) - DWA & BR Puppy Parents that's TWO!
Rob & Amy Guthrie - DWA Puppy Parents of TWO!
Gail Story - DWA & BR Puppy Parents - that's TWO!
Michelle Kodis (and Violet) - Future DWA Puppy Parent
Cathy Palme (Friend of Michelle Kodis and true dog friend!)
James O'Connell - DWA Puppy Parent
Rima Ashmanskas - Future DWA Puppy Parent
Todd & Diane Butenas - Owner of THREE Desert Willow Aussie's!
Rachel Bergman - Owner of TWO Desert Willow Aussie's!
100.00 - Eric & Julee Samuli - Owners of Two Desert Willow Aussie's!
Donna Fanta - Fan/Friend/Fellow Lover of Aussie's!
Rande Giberson - DWA Puppy Parent & Friend
*******************************************************************************************
Vet Appointments:
Thursday, April 7, 2011:

Full Scale work up including X-Ray, Upper GI, Ultra Sound, etc., Cost: $986.77
(This amount includes the work up on April 4th)...T
Read the update below from Omar's Personal Nurse....
I wanted to give Omar's fans an update on his day at the vet. I was his attending nurse today and I really put him through the ringer. He was first started off with "scout" x-rays, the doctor then determines the next test to complete. We collected his urine to send out for a bile acid to urine creatanine ratio. He gave us about 4 samples today! He was also very generous with a fecal sample as well. The worse part was doing an upper GI series. We gave him a liquid to eat and he then had to have a series of x-rays, two views every 5, 10, 15, 30, 60, and 2 hours after swallowing the liquid. He was not happy with me holding him down and at one point bit my finger! He was forgiving as usual and I ended up giving him a belly rub. He then had to endure an ultrasound on of his belly and heart. We then had to draw a blood sample and send it out to the lab for another type of bile acids test. One of our techs had her two sons here and they played with Omar after his tests were done and he was so happy to have that positive attention. Everyone wanted to take him home, he is very special. We won't know the answers until Dr. MacDougall gets the tests back from the laboratory, could be 1-2 days. I will be posting some pictures of the boys playing with Omar. We are hopeful he will be okay and we love him. ~ Jo Lynn Chacon, AAS RVT
FYI: Dr MacDougall called us direct just a bit ago and he is very optomistic. Omar has "Moxy"
(and after all he is a Desert Willow Aussie!)
He see's so much fight in this little boy, along with tolorence during a long ultra sound procedure, while laying on his back waiting for Doc to complete. Omar has been there all day and is doing well, he is not weak, he has tenasity which we all love about this teeny tiny boy.
Doc put him on a blood builder and a "short acting" Steroid for a boost. We are currently in a holding pattern until the test results come in by Saturday. He is gaining weight since we've added in the Liver Support supplement. Dr. MacDougal feels because Omar's "Left Liver Lobe" is enlarged (he called it a shunt) that this might be the issue which was his gut all along, however we needs to wait to see how the tests support this. More soon! Theresa
Thank you Dr MacDougall! and our sweet JoLynn for taking care of my baby today....Love the Pictures of Omar on your facebook page! JoLynn Goss Chacon
PS Jolynn was there during the c-section of Hallee Barry when Omar arrived, so she knows him!
*******************************************************************************************


Read about Team Omar
By Louise Ducote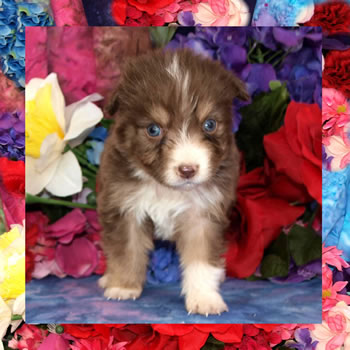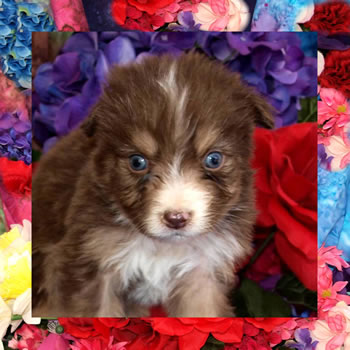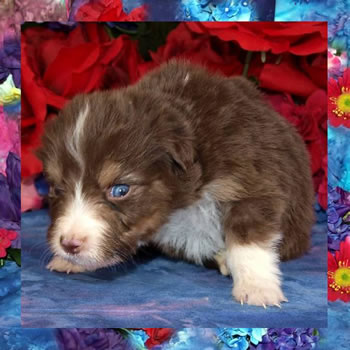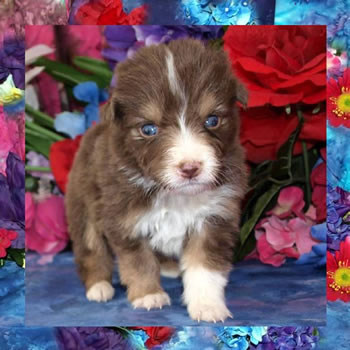 "Omar" Benson Miller
Plays Neal
Red Tri Male
Retained by Desert Willow Aussie's
Omar is the Sweet "Pint Sized" Gift from Heaven. We are keeping him because there are medical reasons that support he is not "whole" on the inside. We just adore this puppy. He will stay with us in hopes of total healing.
Today he is acting perfectly normal....Heaven will be waiting a while on this one!