Desert Silk Skin Care
THE ORIGINAL PEARL CREAM SYSTEM
Desert Silk Creams are 100% Natural
http://www.desertwillowsilkpearl.com
Our Formula has been exclusively produced & distributed
for over 13 years by Indigo Hills Desert Silk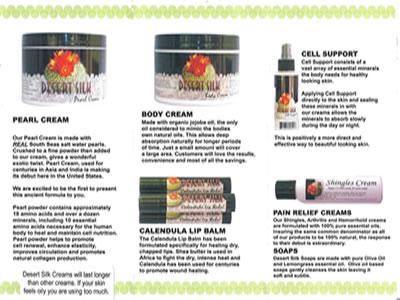 TO ORDER CONTACT: DESERT WILLOW HOLSITIC
Theresa Gorduyn – 505-565-5665

Visit us at:
http://www.desertwillowsilkpearl.com
I will ALWAYS have Pearl Cream in my medicine cabinet! Aside from this great benefit, I also love it for my own skin; it's soothing but not oily and my complexion looks and feels better. Thank you, Desert Silk!" Louise Ducote, Austin, Texas - www.raisingivy.blogspot.com
A few days of using Desert Willow Silk Pearl products, my skin looks spanking new and feels incredible!
Jennifer Jaramillo, Veguita, New Mexico
I typically don't use many products because I have "complicated" skin, but I have become dependent on four of these
products. The Pearl Cream, Body Cream, Spray Mist, and the Lip Balm. Jacque Pereira, Placitas, New Mexico

Read how Desert Willow Silk Pearl Cream
is changing the face of Skin Care!!! - click here
This is a perfect cream for mountain wind, dry desert weather and over all dryness in any climate due to age.
We've found Women over 40 especially love it, but my kids use it too!
Our Acne formula works beautifully when used daily.

Desert Silk Pearl Cream aids in healing Eczema when applied to clean damp skin and used twice daily until skin clears.
Then continue use at least once a day to maintain.
Baby diaper butts love it too! This cream is wonderful as a prevention for diaper rash and the soothing effect is immediate! Pearl Cream can be applied under other diaper rash prevention; however you must allow it to air dry before applying other
topical products. When you see a diaper rash, watch how wonderful it looks the morning after application!
To apply on your face; after shower or washing skin (when still moist and supple - not wet) apply a small amount to face and neck (hands and elbows too!)....Let soak in about 15 mins. Then take a cotton ball or soft Kleenex (no moisturizer Kleenex) and dab over face to remove excess especially around the eyes. Then apply make-up as normal. If your skin is greasy, you are using too much! A little goes a long way.
********************************************************************************************************************