Older Dogs

&

Puppies for your Consideration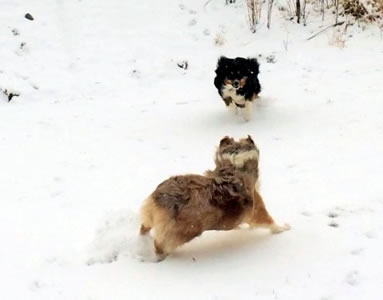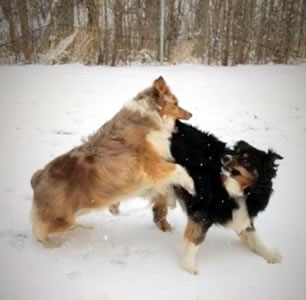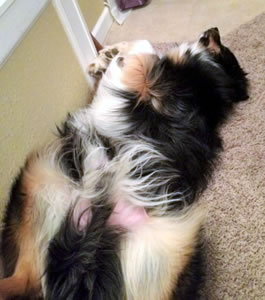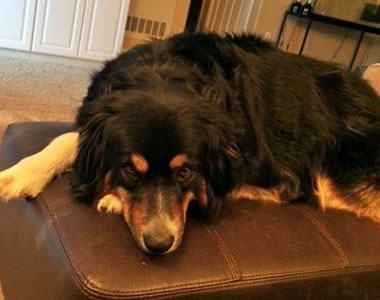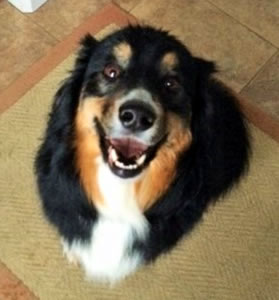 AVAILABLE
Noah is a Black Tri Male with the silkiest hair and was born 10 July 2009 to Oliver Stone and Mae West. He is one of the happiest dogs I have ever met. Noah LOVES his Humans and his food! He has to know where we are at all times and what we are doing. Sometimes he pays more attention to us than where he is walking. He is all about receiving love and affection and butt scratches. Noah gets along with other dogs and plays well. Noah only has a couple of challenges. He is not always willing to share his toys with his Sister and because of his love of food, he always attempts to finish Abby's dinner for her. Once upon a time he was very difficult to bathe, but now he has improved when it comes to bath time and will cooperate. Noah does ok in a car, sometimes getting a little fussy from the excitement or anticipation of his destination. He does well to tolerate vet appointments and grooming appointments. Noah is fantastic about going potty outside and not chewing on anything than his toys. He is a good, loving and attentive friend.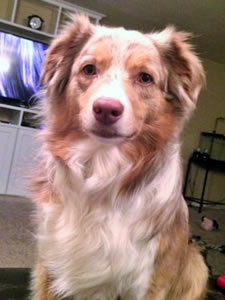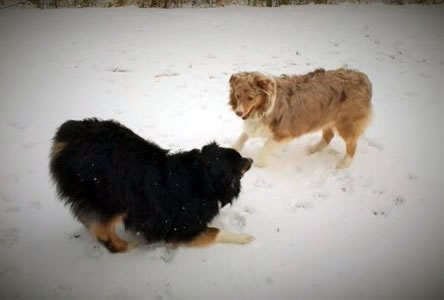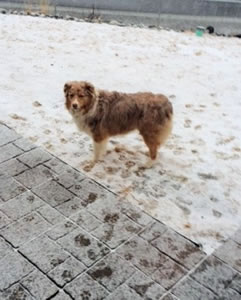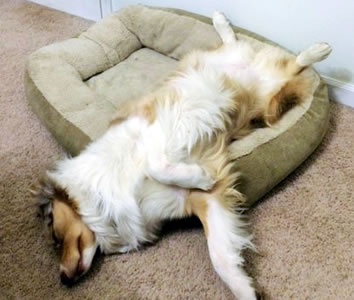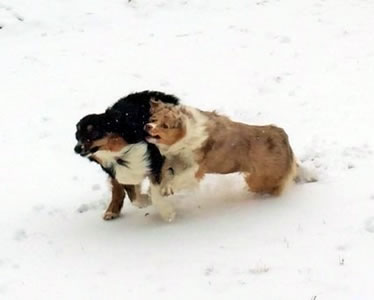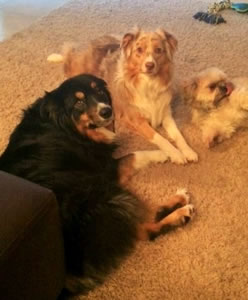 AVAILABLE

Abby is a Red Merle Female and absolutely GORGEOUS and she knows it! She was born on 17 July 2009 to Jubileena and Audie Murphy. Abby is much more independent than Noah and the lead dog between them. She enjoys being around her Humans, but is ok with alone time and knows how to comfort herself. She can be very determined when it comes to getting her way and doing what she wants, but once the war is won, she will submit to our desires. Abby is great around other dogs, loves to play and has no problems with strangers. She is not a fan of bath time, but we are able to get her bathed and take her to the groomer. She tolerates her vet appointments very well. Abby does extremely well in a car, enjoys the outing and is visually stimulated with all that goes with the ride. She loves being outside and enjoys running around and play time. She is higher in energy than her brother Noah and definitely needs something to do. Abby can be vocal at times to make sure she has your attention, is quiet once she has you. She would be good with a Job to do...

Both Abby & Noah had vet appointments in March and are current on vaccines. Abby weighed 48.6 pounds and Noah weighed 54.8 pounds and are well traveled and adapt to change easily. As puppies, Desert Willow Aussies flew them to Italy with a personal handler which they handled very well. They lived happily with us in Italy for 3 years. Then has since traveled to Alaska with us and they moved right into their new life here without any adjustment problems, and have been here for almost 2 years. They both do well in various climates. We are confident they will adapt well with or without each other. We are being deployed again and it will be much harder to take them with us this time. It breaks our hearts to have to let them go, but we know Theresa takes care of her own and will see to it that they have the best life possible.

When available, take a moment to fill out our online Application.
We will contact you promptly!

We are always happy to report that Desert Willow has no
Aussies or Kittens from our Kennel in the Rescue, Pound or Shelter facilities.
We are Responsible Breeders who know where all our kids are. Our
goal is to always place our Puppies/Dogs into correct homes for the Puppy
and Human, with full hope of long lived forever homes.
There are occasions when situations change and folks cannot keep their DWA's,
we then we step in to make sure to handle the Re-home process. We seek qualified
homes according to temperament of the dog and the family dynamic and setting.

We are blessed beyond words that almost every dog ends up with a current DWA Puppy Parent
who is familiar with our feeding system, shot Protocol and also enjoys our community of dogs and people.
Thank you to so many of you who are always there with open arms!
Love you guys...T




NOTE: We retire our Breeding Females
in their sixth year of life. We do not breed into seven
years + as it's our personal belief of being inhumane to the dog.

FYI: There are occasions we place a Breeding Male. The reason is
only because we do not Line or inbreed back into our breeding program.
In these seasons we do place a breeding male into a "Pet Home" only.
We will never offer breeding rights on our retired males or females.
Pet homes only, no exceptions!

All our Adult Dogs are socialized to other dogs, cats, children & visitors!
When available, take a moment to fill out our online Application.
We will contact you promptly!



Contact us direct for details