Travelin' Jack-My Story

It all began in January 2009 with a long ride from Colorado to New Mexico. Little did I know, as a 7-month old puppy, how my life was about to change. I wasn't sure why my first 'people mom' took me to the shelter, I didn't think I had been a bad puppy…but that is where my Angel-Auntie Patricia and Jill found me! I soon learned that Jill had been searching for SIX MONTHS for a rescue bulldog….MY lucky day when I was discovered at that Colorado animal shelter.

BUT let's fast forward to NOW. I am a 4 year young Olde English Bulldogge and pawhaps the easiest way to sum up my doggone great life is to say I am called New Mexico's AMBASSADOG! I am part of the "JACK AND JILL TEAM" as we travel New Mexico in search and
support of EVERYTHING PET.

Among the honors I have acquired in my 4 years in this pup-profession are 1) I am New Mexico's pre-eminent and award winning Pet Travel Writer-reporting on pet friendly travel destinations; 2) I am New Mexico's ONLY Award winning Dog Author with my book-my personal dog-ography; 3) I am a Dog-Model, having appeared in spots from a Ford commercial to national pet store promotions to resort photo shoots to book modeling (this book included); 4) I write my 'pup-ular' Dog-Blog-Travelogue on my website www.travlinjack.com where I cover EVERYTHING PET; 5) I appear regularly on TV, Radio, the Internet, National Conferences and Events barking about EVERYTHING PET; 6) I even hold the honor of being New Mexico's 1st ever Dog-Governor where I ran as the 2010 INDEPENDENT DOGERNATORIAL CANINE-DIDATE FOR DOG-GOVERNOR OF NEW MEXICO. I won paws down! 798 animals voted for me on my write-in PETition for Dog-Governor where we helped twelve animal welfare organizations around the state adopt needy pets and raise thousands of dollars in much needed funding. But perhaps MOST importantly 7) I, Travelin' Jack live and love to support pets in need. I have integrated sharing my message in all I do and wherever I travel. It's MY way to support Animal Welfare .

You could say EVERYTHING PET is my PAWSSION ! Yes, I LUV my life. And I hope to meet you very soon as our paws cross ….somewhere, sometime, some place around our beautiful Land of Enchantment!

Travelin' Jack
New Mexico's Roving Bulldog Reporter
Award winning Dog-Author
Award Winning Pet Travel Specialist
& New Mexico's Dog-Governor.
www.travlinjack.com
Facebook: Travelin' Jack, Public Figure
Facebook: Travelin' Jack, Roving Bulldog Reporter

Get Pup-ared for Summer with Travelin Jack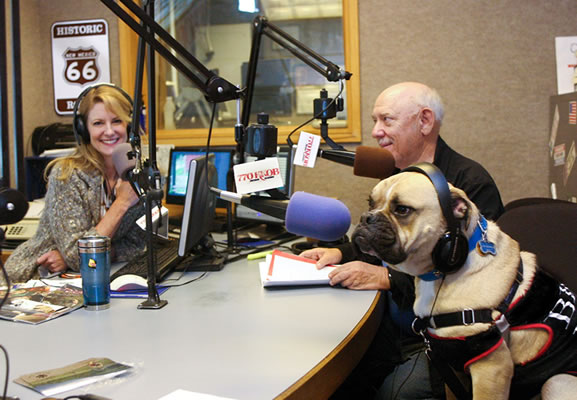 RECENT SCHEDULE OF ACTIVITIES
TV appearances on KASA Fox 2 "New Mexico Style". I appear monthly as the 'Pet-spert' on Anything pet…from Travel to Fashion to Product Reviews to Health…and of course Pet Welfare.
Radio Appearances. Jill and I are guests approximately once a month on Albuquerque's #1 Talk station 770 KKOB radio on the "WEEKENDS WITH Terrie Q".
March 2013 article in "New Mexico Magazine". Dog Is My Copilot.
March 2013 issue in "High Desert Dog" Magazine Hit The Road, Jack!
February 2013 Jack's photo was showcased on the national TV show Dr. Oz Show in his "YAWNING"segment
Cover Model for 2013 book "PET FRIENDS" as well as book host.
February 2013 Canine-Model at the Northern New Mexico Bridal Expo
Numerous Fundraisers for NM Animal Welfare. These include everything from book signings (pawdigraphing) my award winning book "TRAVELIN' JACK'S STORY….From Shelter to Star", Official Kisser at The Jack's Smacks Kissing Booth, Participant Fundraiser at various Adopt-a-Thons, etc .
Currently working on new book scheduled for release in May2013, "ON THE ROAD WITH JACK AND JILL…Pet Travel Tips, Top Dawg Destinations, Ideas and Journal"
Preparing for my dog-ficial role as "Woof-elcomer" at the DWA Aussie Reunion in Chama!

Jill Lane
Yep, when it comes to New Mexico FUN...Travelin' Jack is your Expert!
He'll bring you the Latest, the Greatest and the Paw-somely Funniest Updates on New Mexico!